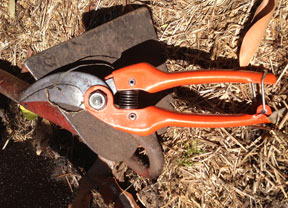 Many Australians use some form of gardening tool on a regular basis, but they can cause serious harm to you and others if used incorrectly, poorly maintained or used without adequate safety precautions. However by following some safety guidelines and by paying careful attention, most accidents and injuries can be prevented.
Before using any tool, read and follow the manufacturer's instructions. Many instructions manuals can also be found at manufacturer's websites
Ensure you use the tool for the job it was intended for
Ensure the tool is not too heavy to use effectively and take appropriate breaks to prevent fatigue
Always use the required personal protective equipment (PPE) this may include, hearing protection (ear muffs, ear plugs) eye protection (Safety glasses or face shields) gloves, boots or chaps
Avoid loose fitting clothing or jewellery that can become caught in moving parts. Any long hair should be tied up
Never remove safety guards or modify tools
Keep your tool well maintained this includes :
> power cords are free from frays,
> clean air filters
> blades are sharp
> free from build-up of grass, oil & petrol
Never work alone, if an accident does happen ensure you can quickly contact someone for help
Do not use tools under the influence of alcohol or drugs, this includes some prescription medicines
Ensure that you are aware of any other people or animals around you whilst operating the tool and ensure that children are out of the way
Secure your tools out of reach of children
Do not operate tools in poor light
Electrical Tool Precautions
Don't operate electrical tools in the rain or in wet areas such as ponds
Make sure you have a circuit breaker in use with any outdoor electrical tools
Ensure the power is turned off and the plug or battery pack is removed before any maintenance or cleaning
Petrol Fuelled Power Tools
Do not refuel petrol tools with the engine running, wait for the engine to cool down before refuelling and clean up any fuel spills. Ensure you refuel or mix fuel outdoors and do not smoke whilst refuelling
Ensure petrol is responsibly stored in an approved container
Ensure the spark plug is disconnected before performing any maintenance or cleaning
Before using hand tools inspect the tools for defects such as splinters in the handle or cracks in the metal and ensure the head of the tool is attached correctly to the handle
Keep the cutting edges of garden hand tools sharp
When using a cutting tool, always cut away from the body
Be aware of other people and pets around you as you work and ensure you have enough clearance
Be aware of manual handling injuries whilst using hand tools and take regular breaks
Ensure you pack long handle tools away after use as they may cause a trip hazard
Lawn mowers are one of the most common powered garden tools in Australian homes, but they can also be one of the most dangerous.
Before using the mower inspect the lawn for rocks, sticks, toys, hoses or any other object that can become entangled in the blades or act as a projectile if hit by the blades.
Make sure that children and pets are out of the way before starting.
Inspect the mower, ensuring it is serviceable and in good working order and that no guards or other safety features are broken.
Ensure you wear sturdy shoes or boots and if required hearing protection.
For electric lawn mowers make sure the power cord is behind you when in use and cut away from the cord not towards it.
Be aware of any slopes; push type mowers are best used across the slope to prevent the mower rolling back and ride on mowers are best used up and down the slope to prevent the mower from tipping over to the side. Be aware of excessive slopes.
Never try to remove an obstruction from a lawn mower whilst it is running. Disconnect the power lead, battery or spark plug first.
Chain saws are very dangerous power tools and they should not be operated unless you are confidant with the tool, use appropriate PPE and have preferably received qualified instruction
Before using the chainsaw ensure that the tool is maintained in correct working order as per manufactures instructions. This includes ensuring that the chain is sharp and at the right tension, the tool is lubricated and that all nuts/screws are at the right tension
Ensure that the chain brake and other safety features work
Ensure you have the correct PPE, face guard, chaps, gloves, and hearing protection. Also ensure that that you have no loose clothing and that the PPE fits correctly
Make sure you that the saw blade is not in contact with anything before you start
Assess the cut before undertaking it, make sure that falling branches will not hit yourself or others or cause damage
Ensure you have a secure footing and do not operate the saw above chest height
Use the bottom of the saw to cut, not the tip or top of the saw
Make sure your body is free of the path of the saw
Make sure that the timber you are cutting is free of obstructions as well such as nails
Ensure you use both hands on the tool during operation
Ensure that you have a secure footing, and that you do not over balance. Do not operate the tool above chest height
Be aware of the blades and where your hands are
Ensure you have both hands on the tool during operation
Ensure that the nozzle is not pointed at pets or people as there is potential for eye injury
Dust masks and ear protection may be useful during operation
Brush Cutters / Line Trimmers
Do not remove any guards from brush cutters/line trimmers
Ensure you turn the machine off and disconnect the power/spark plug prior to adjusting the trimmer line or cutting disc
Ensure children and pets are out of the way
PPE should include hearing protection eye protection, sturdy shoes or boots and long trousers
Ensure you turn the machine off and disconnect the power/spark plug prior to removing any jams
Be aware of your hands during operation, and ensure loose clothing is not worn
Be aware of the debris from the ejection chute
For more information on tool safety please refer to your tools instruction manuals or refer to the manufacturer.
For further information the following sites may be of use.